The famous Larry & Barry, the dynamic business duo created by Arthur Lipper, talk about business, royalties, marketing and finance in their frank and uninhibited style.
---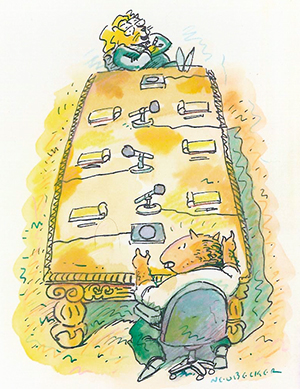 The Larry & Barry Guide to Revenue Royalties
A collection of dialogues between notional characters in the role of both buyers and sellers of royalties. The conversation answers many of the questions regarding the use of royalties. © copyright 2015.
Larry & Barry Discuss What's Wrong With Royalties
Using a negative question to describe the positives of royalties Larry and Barry have a dialogue Larry and Barry are partners in a business and have both the perspectives of investors and business owners.
Larry & Barry Assess Potential
Larry and Barry consider buying a royalty from a company and discuss the research which should be done and how to do it prior to reaching to a decision if they want, on the terms offered, to buy the royalty.
Larry & Barry present royalties to an aggressive investor
Larry and Barry pitching an aggressive investor on the advantages of royalties as an investment.
Larry & Barry presenting royalties to a business owner
Larry and Barry explaining to a business owner why using royalties in financing a business is the best approach.
Larry & Barry presenting royalties case to a cautious investment manager
Larry and Barry assuring a cautious investor that investing in royalties is a responsible and less risky practice.
Larry & Barry Using Scaled Royalties
Larry & Barry, the iconoclastic pair of business managers, consider how scaling royalty rates up or down, based on revenue performance, can benefit investors and entrepreneurs, and introduce the Scaled Royalties analytical tool.
Larry & Barry Consider Debt Share Royalties
The possibility of creatively combining debt with royalty returns is considered by Larry & Barry. The dialog reveals when this type of approach may be of benefit in structuring a royalties agreement.
Larry & Barry Discuss the Folly of Belief
"…people, including us, need to have a belief that good actions on our part in terms of benefit to others will ultimately produce a good result for us."
Larry & Barry Discuss Pricing of a Royalty Sale
"The website calculator REX-PV.com gives us the answer — how close we would be to achieving the Internal Rate of Return (IRR) we targeted, and how much we should sell the royalty for."
Larry & Barry Consider Assured Return Royalties
Larry and Barry discuss the new analytical tool, at http://www.rex-riar.com. "With this tool, we can negotiate with the company the  amount to be invested, the level of return, the minimum assured  amount, the royalty rates and their timing and the redemption right. The success of any investment in royalties depends on the royalty  issuer achieving the levels of projected revenues."
Larry & Barry Consider Starting a Royalty Income Fund
With their success in financing their own company, the dynamic duo considers establishing a private investment fund, to finance other independent companies in a diversified portfolio. They look at the steps, the work, the rewards.
Larry & Barry Discuss the Cost of Royalty Funding
Business owners who consider accepting an investment structured as revenue royalties need to understand their total cost of capital, relative to other alternatives including traditional debt and equity. Larry & Barry take the viewpoint of business owners in this lively discussion.
Larry and Barry Learn from Losing
Investors Larry and Barry lost all their money in a deal. They go through the painful but necessary learning process.
Larry and Barry, Investing in a Royalty Income Fund
Larry and Barry, with their investor hats on, discuss the possible advantages on investing in a fund of royalty-issuing companies. Then they put their company hats on, and evaluate the opportunity from that angle as well.
Larry and Barry Use Royalties to Fund an Acquisition
The dynamic duo return to their inventive ways — this time figuring out how to finance an acquisition of another company by their own company, using a royalties strategy.
Larry and Barry Wondering about Royalties
The dynamic investor duo talks about why, with all their evident advantages, royalties are not already the preferred way to finance a growing company.
Larry and Barry Discuss a Bad Idea
A key premise of a royalty investment is that it does not involve a transfer of equity. Larry and Barry examine a possible exception to this, and consider the pro's and con's.
Larry & Barry Discuss How to Deal with Scaled Royalties Shortfalls
Intrepid royalties investors Larry & Barry are discussing the "Scaled Royalties" technique. This method, for which a dynamic model has been developed at REXScaledRoyalties.com, allows companies to receive benefits if they consistently exceed projected revenues, and provides for investors to receive adjustments in their returns if companies consistently miss projected revenues. The latter situation is the subject of this discussion.
Larry and Barry On the Bad Choices of Early Stage Investors
The start of a dialog between business partners, acting as investors, Larry and Barry:
Larry: "I was just at one of those meetings for people supposedly  interested in investing in early stage companies." Barry: "How was it?" Larry: "Terrible; they were thinking just the way we were before we  learned about royalties."
---